I have tried making many rag rugs. I've braided, sewed, crocheted, and more. Most of them were way too time-consuming, turned out lumpy, frayed, or turned into a bowl (oops!). Where were the rag rugs for people who can't sew those braids flat no matter how hard they try??
It wasn't until I saw
this simple photo
that my rag rug world exploded. It was all, "Wait... you can crochet around fabric? HOW DID WE NOT KNOW THIS??"
That brings us to today. You CAN crochet around fabric, and it is incredibly fast and fun to do. As long as you know how to crochet flat, you can do it! And if you don't know how, it's as simple as increasing just enough so it doesn't ruffle or curl. There is lots of give and take, you can usually fix mistakes the next time around.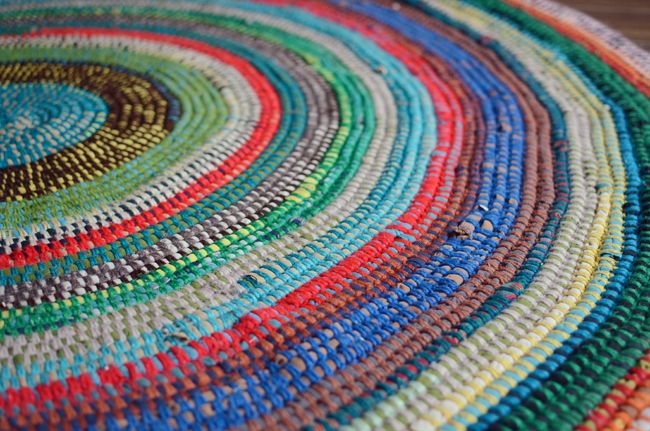 So far I've used about 15 old t-shirts, along with some pants and scrap fabric. This rug will likely grow at the pace we destroy our old clothes. It is a work in progress for sure.
My favourite thing about the rug is it makes a great baby play mat! I used this a lot when M was very little, so she could roll around on the ground without bonking her head on the hard floor, or slipping on a blanket. She likes it too, but won't stay in one place for long anymore.
I sincerely hope that if you've taken the time to read this, you'll also consider making your own. Happy rug making to you!